Print This Recipe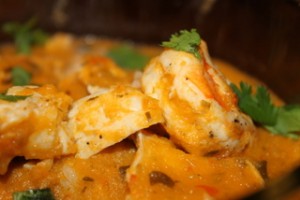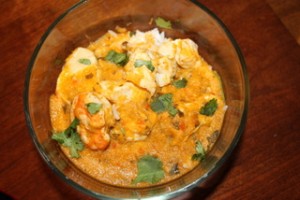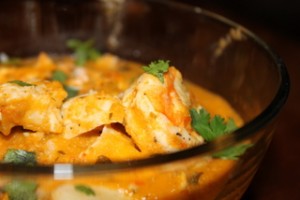 This version of Moqueca de Peixe e Camarao (Brazilian Fish and Shrimp Stew) comes from the state of Bahia in northen Brazil.  It reminds me of a Thai curry because of the coconut milk.  You can make it with only fish – Moqueca de Peixe – or only shrimp – Moqueca de Camarao – but we liked it with the combination of seafood.
After cooking the vegetables, we blended them to form a vegetable purée which is actually a smooth and flavorful sauce on its own.  Adding coconut milk makes the stew silkier and richer; adding chicken broth makes it runnier.  We used a little bit of coconut milk but omitted the chicken broth.  You can experiment with the quantities of liquid to reach your desired consistency.
If you want your stew spicy, add chile peppers to the vegetable purée.  In Brazil, they would most likely use the malagueta pepper but if you can't find that, you can use a substitute.  Serrano peppers, Thai peppers and Fresno red peppers are all good options depending on the level of spice you would like.
The following recipe is adapted from a Cooking Light recipe.
Ingredients
1 1/2 lbs firm white fish, such as cod
1 1/2 lbs shrimp, peeled, de-veined and rinsed
1/2 tsp black pepper
2 garlic cloves, minced
2 Tbsp olive oil
The juice of 2 limes
2 cups finely chopped onion
1 cup chopped green bell pepper
1 cup chopped red bell pepper
2 cups chopped tomatoes
3/4 cup minced green onions
1-3 red chile peppers, minced, depending on how spicy you want the dish
5 garlic cloves, minced
1 cup coconut milk (I use light coconut milk)
1 cup low-sodium chicken broth, optional
1/4 cup chopped cilantro
Combine the fish, shrimp, pepper, garlic, olive oil and lime juice in a bowl.  Cover with plastic wrap, place in the refrigerator and let marinate for thirty minutes. 
Lightly coat a cooking pan with oil.  Cook the chopped onion, bell peppers, chiles, green onions and garlic over medium heat for 5-6 minutes until tender.  Add the chicken broth if desired and bring to a boil.  Purée the cooked vegetables and broth in a blender until they are smooth.
Combine the vegetable purée and the coconut milk in a pan and bring to a boil.  Boil at medium-high heat for three minutes, stirring so that the sauce doesn't stick to the pan.  Add the marinated seafood and cook for three minutes or until the seafood is fully cooked.  As it cooks, the fish will flake into smaller chunks.
Garnish with chopped cilantro.  Serve over rice.
Adapted from Cooking Light magazine, September 2001.
Purchase the 2001 compilation of Cooking Light's recipes: Cooking Light Annual Recipes 2001
Subscribe to Cooking Light: Cooking Light (1-year)
Click here to view a guide for selecting seafood.
Tags: bell peppers, chiles, cilantro, coconut milk, fish, garlic, lime juice, shrimp, tomatoes