Tue, Dec 29, 2009
Breads, Cakes, Cupcakes & Brownies, Desserts, Disguising Healthy Foods, Fun Family Activities, Holidays, Muffins & Quick Breads, Search by Course, Thanksgiving

Print This Recipe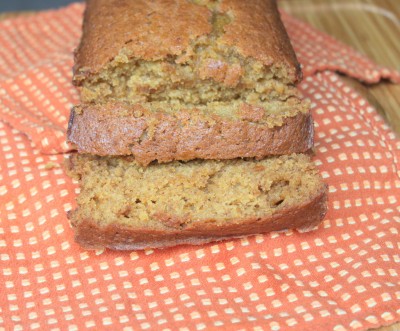 Nothing screams the arrival of autumn like the smell of pumpkin bread permeating the house.  This year, I had a freezer full of homemade puréed baby foods (zucchini, sweet potato, summer squash and yams) that my son would no longer eat.  Not wanting to waste the purées and wanting to get my son to eat his veggies, I decided to change tactics and  turn the baby food into sweet bread.  It worked!  Cooper is happy because he loves this moist bread (and loves matting it in his hair); I'm happy because he's eating his veggies.
I have since made several batches of this quick bread with all different combos of the baby food purées mentioned above.  Most recently I made a batch with some homemade pumpkin purée.  Each time, the bread has been moist and full of a rich, nutty, spicy autumn flavor.
The bread freezes well in a Ziploc bag so you can freeze one of the loaves and save it for later.

Author:
Itsy Bitsy Foodies
Prep time:
Cook time:
Total time:
Make this moist pumpkin bread with any combo of pumpkins, squash and other veggie purees.
Ingredients
1 cup vegetable oil
3 cups sugar
⅔ cups water
2 cups pumpkin purée
4 eggs
3 ½ cups flour
2 tsp baking soda
1 tsp nutmeg
1 tsp cinnamon
Instructions
Mix all of the ingredients together.
Divide the batter evenly between two greased loaf pans.
Bake at 325 degrees for 1 hour, or until the top springs back to the touch and a toothpick comes out clean.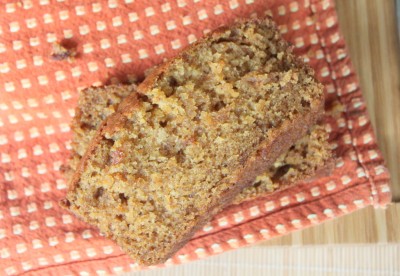 Tags: pumpkin, pumpkin cake, pumpkin muffins, pumpkin quick bread, summer squash, sweet potato, yams, zucchini