Sat, Jan 9, 2010
Around the World, Europe, Foodgawker, Italy, Itsy Bitsy Foodies Sightings, Main Dishes, Pasta, Seafood, Search by Course

Print This Recipe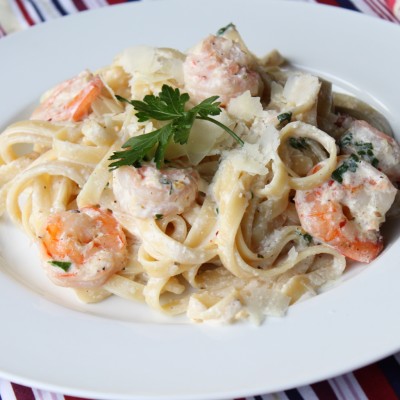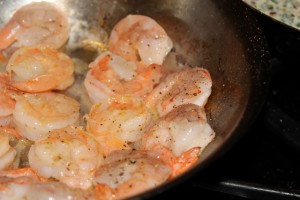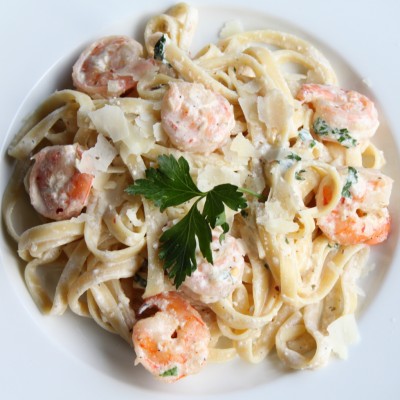 The inspiration for this recipe came from my brother-in-law.  He used to own a successful Italian restaurant and made my family a to-die-for shrimp Alfredo a few years back.  Of course, it was the real deal, full of heavy cream and butter.  We wanted to duplicate this hearty comfort food but make it lighter.  We recently made the following recipe using "half and half" instead of full cream and eliminating most of the butter.  It still has the rich flavors and creamy texture but we don't feel so guilty after each bite!

Shrimp Fettuccine Alfredo
Author:
Itsy Bitsy Foodies
Prep time:
Cook time:
Total time:
This version of fettuccine alfredo has the rich flavors and creamy texture that we love but we don't feel so guilty after each bite!
Ingredients
2 Tbsp butter
2 garlic cloves, minced
2 cups "half and half"
½ cup fresh Parmesan cheese
½ tsp salt, to taste
⅛ tsp black pepper, to taste
½ tsp oregano
¼ tsp crushed red pepper flakes, to taste
1½ Tbsp chopped parsley
½ lb shrimp, de-veined
2 cups fettuccine noodles
Instructions
Cook the noodles according to the instructions on the box.
Sauté the garlic in 1 Tbsp butter over low heat.
Add the "half and half" and the Parmesan cheese.
Let the sauce simmer and bubble but do not let it burn, stirring it constantly.
Add the seasonings and chopped fresh parsley.
In a separate pan, sauté the shrimp in 1 Tbsp butter.
The shrimp will turn from translucent to a solid pinkish color when they are done.
Add the cooked shrimp to the simmering cream sauce.
Mix in the cooked noodles and serve the pasta warm.
Click
here
to view a guide for selecting seafood.
Tags: fettuccine alfredo, fettuccine noodles, garlic, parmesan cheese, parsley, shrimp