Print This Recipe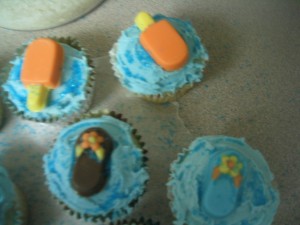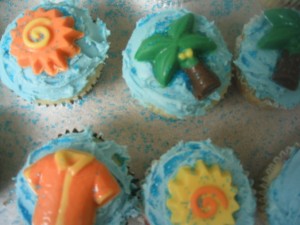 1 batch of cupcakes, any flavor (I use my Chocolate Cake recipe.)
1 batch of buttercream frosting, colored bright ocean blue
Tropical chocolate candy molds with the colored chocolate (Michael's has a good selection of molds and chocolates.)
Bake the cupcakes and let them cool completely. 
Make the tropical chocolate candies, following the directions that come with the candy molds and chocolates.
Ice the cupcakes with buttercream frosting, tinted a bright ocean blue.  Top the iced cupcakes immediately with the chocolate designs.  Sprinkle lightly with shimmery blue sprinkles.  It is important to decorate the cupcakes before the icing dries so that the chocolates and sprinkles stick to the cupcakes.