Print This Recipe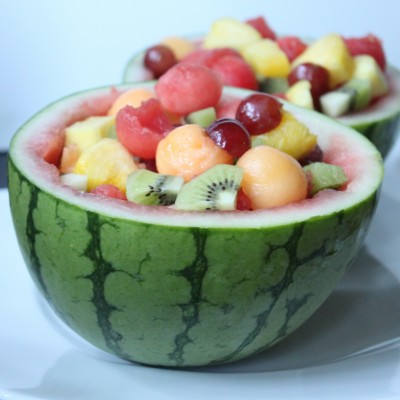 This fruit salad is all about the presentation and will be a favorite with your family and friends for its color and festive appearance. It is surprisingly simple to do as long as you have some time to chop fruit {a step that can be done ahead of time}. I like using Dulcinea watermelons because they are the perfect size for family dinners and smaller parties. Simply scoop out the watermelon flesh with a melon baller and mound an assortment of fruit chunks into the watermelon "bowls."

Author:
Itsy Bitsy Foodies
Add a mix of whatever fruits you have to this colorful, eye-catching fruit salad.
Ingredients
1 Dulcinea watermelon
Pineapple, cut in chunks
Grapes, cut in half
Cantaloupe balls
Kiwi, cut in chunks
Instructions
Cut the watermelon in half.
Using a melon baller, scoop out the watermelon of each half and reserve the watermelon spheres in a bowl.
Scrape out as much of the red fruit to leave smooth sides of the watermelon "bowl."
Leave the watermelon bowl edges straight or cut them in a decorative pattern if desired.
Cut the remaining fruit into chunks.
Use the melon baller for cantaloupe and other melons.
Divide the fruit between the two watermelon halves, using enough fruit to generously fill the watermelon bowls.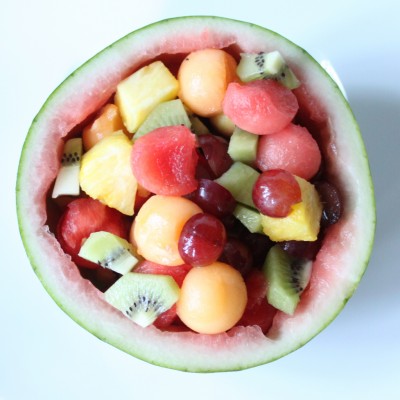 Tags: berries, fruit, fruit salad, kiwi, melons, pineapple, watermelon, watermelon bowls