Mon, Nov 19, 2012
Daily Buzz Moms, Dishfolio, Fun Family Activities, Healthy Aperture, Holidays, Honest Cooking, Itsy Bitsy Foodies Sightings, Photograzing, Salads, Search by Course, Side Dishes, Thanksgiving

Print This Recipe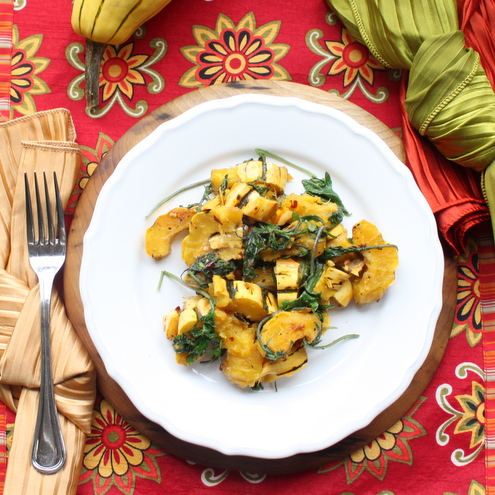 I was recently served a delicata & kale side at a Portland restaurant so when I saw delicata squash at a local farm I wanted to recreate the dish, adding my own spin to it.  One of my favorite things about fall is eating squash — they are easy to prepare, flavorful, nutritious and comforting.  I'm now a big fan of delicata squash and I especially love the fact that you can eat the beautiful yellow skin that is striped in green.
At this point in time, I am the only one in my immediate family (out of adults and kids) that likes squash.  So I am happy that I can easily make a single serving of this dish and save the rest of the squash for making it again the next day.
Simply bake the delicata squash halves plain or lightly seasoned with olive oil, salt & pepper until they are fork tender.  Slice them immediately to saute with the kale or let them cool and save them for later.  You can adjust the amount of red pepper flakes depending on how much kick you want in your side dish.  For my taste, the spiciness of the pepper flakes perfectly balances the sweetness of the squash.

Warm Delicata Squash & Kale Salad
Author:
Itsy Bitsy Foodies
Prep time:
Cook time:
Total time:
The spiciness of the pepper flakes perfectly balances the sweetness of the squash in this wilted kale & delicata squash salad.
Ingredients
1 Tbsp olive oil, divided
2 cups kale
1 delicata squash
½ tsp garlic powder
¼ tsp salt, to taste
¼ tsp black pepper, to taste
½ tsp red chili flakes
Instructions
Cut the delicata squash in half and scoop out the seeds.
Place the squash halves on a baking sheet and brush with roughly 1 tsp olive oil and season lightly with salt and pepper.
Bake the squash at 400 degrees for 45 minutes - 1hour until the squash is fork-tender.
Let the squash cool for 10 minutes (or let it cool completely and refrigerate it to be used later).
Cut each squash half into ½-inch slices.
Place the kale in a large pan and add the seasonings, cooking the kale over medium-high heat.
As the kale begins to wilt, add the remaining olive oil and the squash slices, continuing to season with salt and pepper to taste.
Serve the wilted kale and squash immediately.
Tags: delicata squash, kale, squash, warm salad, wilted kale, wilted kale salad, winter squash