Print This Recipe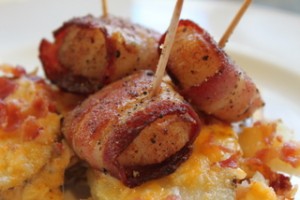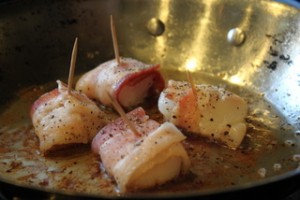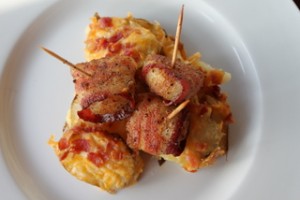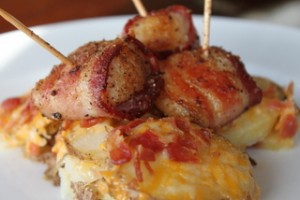 Bacon is a great way to get your family to try scallops.  Scallops generally have a mild flavor and firm texture so wrapped in crisp, salty bacon they will probably be appealing to people of all ages.  These are a great appetizer but when they are a main dish, I like to serve them with cheesy scalloped potatoes.
Ingredients
8 scallops
4 strips of bacon
Black pepper
Cut each strip of bacon into two shorter strips.  Wrap each scallop with a piece of bacon and fasten with a toothpick.  Lightly sprinkle the bacon-wrapped scallops with black pepper.
Lightly coat a pan with oil and heat over medium heat.  Cook the bacon-wrapped scallops for several minutes on each side until both the scallops and bacon are fully cooked.
Serve as an appetizer or with cheesy scalloped potatoes for a main course.
Click here to view a guide for selecting seafood.
Tags: bacon, black pepper, scallops