Print This Recipe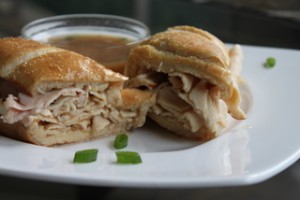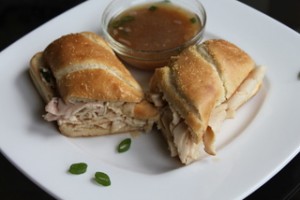 A typical French dip sandwich is made with roast beef on a French roll served "au jus," meaning it is served with the juice that the meat was cooked in.  The sandwich was invented in the United States so its name comes from the fact that it was traditionally served on a French roll, (not because it originated in France). 
I have always loved French dip sandwiches but I wanted a quick version.  I also wanted the option to use chicken or turkey meat because my family tries to limit the amount of red meat that we eat.
The trick to making a simple French dip is to add some simple ingredients to a can of low-sodium beef broth.  Dip the deli meat of your choice into the broth and then layer it on a toasted bun and you have a quick and easy (but tasty) French dip sandwich.
Ingredients
1 tsp butter
1 garlic clove, minced
1 Tbsp chopped onion or shallot
1/2 Tbsp red wine vinegar
Dash of lemon juice
1 Tbsp flour
1 can of low-sodium beef broth
4 sourdough or French sandwich rolls
1/2 pound deli meat (I use a combination of chicken and turkey.)
Dash of salt
Dash of black pepper
Dash of garlic powder
1/2 Tbsp sliced green onions, optional garnish
Wrap the buns in foil and bake them at 350 degrees for 5-10 minutes, until they are warmed.  When you are ready to assemble the sandwiches, remove the buns from the foil.  If you like your bread lightly toasted, open the buns and place them on a baking pan.  Broil them for about a minute until the inside of the buns are golden and lightly toasted. 
Melt 1 tsp butter in a sauce pan over medium heat.  Sauté the garlic and onion for 2-3 minutes.  Add the red wine vinegar and the lemon juice.  Stir in the flour.  Add the broth and whisk until the flour is completely dissolved.  Bring the broth to a boil, then reduce the heat to low and let it simmer until you serve the sandwiches.
Place the deli meat on a plate and sprinkle it with a dash of salt, pepper and garlic powder.  Flip the meat to coat all sides with the seasonings.
Dip the deli meat in the simmering broth.  Then pile roughly 1/4 of the meat on each roll.  Serve each sandwich with a small dish of au jus for dipping.  Garnish the sandwiches and/or au jus with sliced green onions if desired.
Tags: beef broth, chicken deli meat, garlic, onion, red wine vinegar, turkey deli meat