Print This Recipe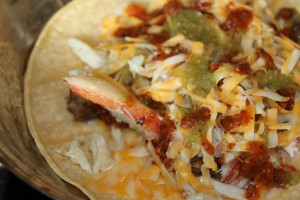 This crab tostada is essentially a crab taco and is great for breakfast, lunch or dinner.  I made this for breakfast last weekend with the leftover crab meat from the night before.  I added sausage but I recommend using only crab.  You can use whatever combination of meat that you would like.
Ingredients
1/2 -1 cup crab meat
1/2 cup shredded Colby Jack cheese
1/2 an avocado, sliced
1/8 – 1/4 cup Salsa Verde, or a salsa of your choice
Sour cream, optional
Place a corn tortilla in a pan over medium heat.  Sprinkle with approximately 1/4 cup cheese and 1/4 – 1/2 cup crab meat.  Cook until the cheese melts and the tortilla begins to brown.  Top with avocado slices.  Drizzle with salsa verde and sour cream.
Click here to view a guide for selecting seafood.
Tags: avocado, cheese, corn tortillas, crab, salsa verde