Tue, Jan 19, 2010
Around the World, Cooking Projects, Europe, Italy, Main Dishes, North America, Search by Course, United States, Vegetarian

Print This Recipe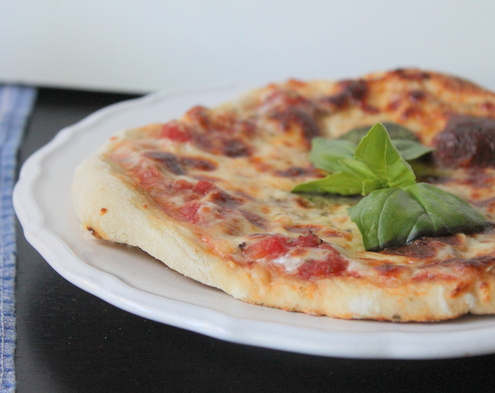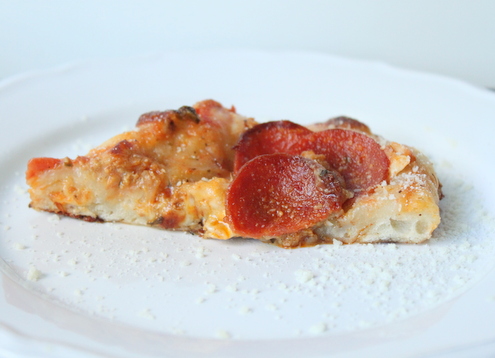 There is an organization, Associazione Verace Pizza Napoletana, that actually certifies pizzas as being authentic Neapolitan-style pizzas.  There are many strict guidelines concerning the pizza dough (which should be made of only flour, yeast, salt and water) and the method of preparing and cooking it (mixed and rolled out by hand and cooked at a high heat).  By no means do I think our pizzas would be certified as authentic but we follow some of the general guidelines to produce a similar pizza in the Neapolitan style.
The following recipe is for pizza Margherita, topped with tomatoes and fresh mozzarella cheese, which is typically used as a base recipe.  Top your pizzas with the additional ingredients of your choice.  Experiment and be inventive.  Just remember that with this style of pizza, fresh is best and less is more!
Sourdough starter gives pizza crust a light airy texture and a subtle sourdough tang.  The following recipe is modified from Jeff Varasano, arguably one of the greatest pizza scientists of our country (you'll know what I mean if you visit his website).  I have greatly simplified his process.  I follow his proportions pretty much exactly (I like adding a little more salt and sourdough starter for flavor) but I don't get caught up in the details of the exact types of flours, tomatoes, etc.
One of the keys to this type of pizza is cooking it at an extremely high heat.  Jeff Varasano actually broke his oven so that it cooked on the clean cycle, at a very high heat.  We ended up having a defective bbq that reaches over 700 degrees.  We crank it to high and heat a pizza stone in it prior to baking the pizzas.  We place the pizza stone on bricks so that the heat can circulate on the bottom and top of the pizza, allowing the top of the pizza to char before the bottom burns.  The result is pretty darn close to a Neapolitan pizza!
For the pizza sauce use fresh or canned tomatoes, such as San Marzano.  Use whole peeled plum tomatoes.  Cut off the tops.  Crush them with a hand-held blending device or a potato masher.  Season to taste.  A good base is to mix the tomatoes with Romano cheese, 1/4-1 tsp sugar, a pinch of salt and a pinch of dried oregano.  (Crush the dried oregano flakes between your fingers to release the oils.)  Though I don't get caught up in the type of tomatoes that I use, I do shake the cans of whole tomatoes in the store.  I learned from Jeff Varasano's website that you want cans that don't have much sound when shaken (the tomatoes are packed tightly); you don't want cans that sound like they have a lot of water in them.
If you don't have time to make the Sourdough Pizza Crust, you can use our Easy Pizza Crust and get similar results.  If you are really short on time, some markets sell pizza dough balls from local bakeries and this would even work in a pinch!

Homemade Neapolitan Pizza
Author:
Itsy Bitsy Foodies
Prep time:
Cook time:
Total time:
Just remember that with toppings for your Neapolitan-style pizza, fresh is best and less is more!
Ingredients
Pizza Sauce
28 oz can whole tomatoes
¼ - 1 tsp sugar
Pinch of salt, to taste
Pinch of dried oregano, to taste, crushed
Pinch of grated romano, optional
Neapolitan-Style Pizzas
Fresh mozzarella cheese, sliced
Fresh basil
Any other pizza toppings
Instructions
Pizza Sauce
Mix all of the ingredients with a masher or hand-held blending device to mash up the tomatoes.
I prefer leaving some chunks so that the sauce is not too runny.
Cover the sauce with plastic wrap and let it chill overnight so that the flavors can marinate together.
Bring it to room temperature for an hour or so before you will use it.
(It can be used immediately if you do not have time to let it rest overnight but there won't be as much depth to the flavor.)
Neapolitan-Style Pizza
Take one of the pizza dough balls and begin pulling into a circle. You don't want to roll it out with a rolling pin because this will make it tough.
Pull and press the dough into a circle on a lightly floured wooden pizza wheel.
Spread pizza sauce over the crust, using less sauce in the center. Remember that with the sauce and all of the ingredients -- less is more!!
Cover the sauce with slices of mozzarella cheese and any other toppings.
Slide the pizza from the pizza wheel on to the pre-heated pizza stone (on the bricks in the bbq).
Cook for 5-8 minutes until the top is charred and the pizza dough is done.
Tags: homemade Neapolitan-style pizza, homemade pizza, Italian-style pizza, Neapolitan pizza, pizza, sourdough pizza crust