Print This Recipe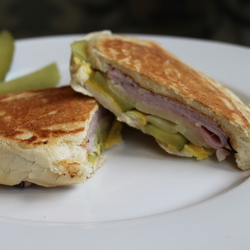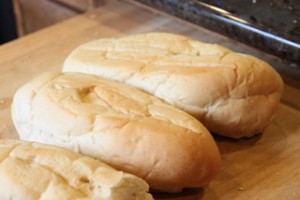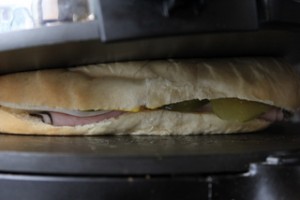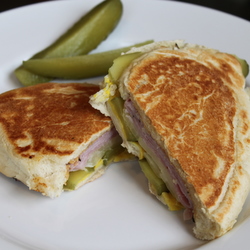 A Cuban Sandwich, also known as a Mixto Sandwich, is a variation of a ham and cheese sandwich.  There are many versions of this pressed sandwich but traditionally, it consists of ham, roasted pork, Swiss cheese, mustard and pickles. 
We had some torpedo French rolls that reminded me of the bread used in Cuban sandwiches (which I have seen on several of the travel cooking shows) so I decided to try to make one.
I used provolone cheese instead of the standard Swiss cheese and I left out the roasted pork because I didn't have any on hand.  My family devoured the sandwiches.  I definitely plan to make these again and add the roasted pork.   
Ingredients
Cuban bread or torpedo French rolls
Mustard
Provolone or Swiss cheese, sliced
Ham, thinly sliced
Dill pickles, thinly sliced
Slice the sandwich rolls in half horizontally.  Brush the outside crust with butter (only about 1/4 tsp).  Spread mustard on the inside of the bread.  Layer the ham, cheese and pickles on the bottom and place the upper crust on top.
Grill the sandwich.  Traditionally, Cuban sandwiches are grilled on a plancha which is similar to a panini press but without the grooves.  You can also grill the sandwich in a pan on the stove top and use the bottom of another pan to press the sandwich down, flattening it while it cooks.  Cook the sandwich until the bread is crunchy and the cheese is melted.