Sun, Jan 31, 2010
Appetizers, Around the World, Cinco de Mayo, Disguising Healthy Foods, Fun Family Activities, Holidays, Mexico, North America, Sauces, Marinades & Dips, Search by Course

Print This Recipe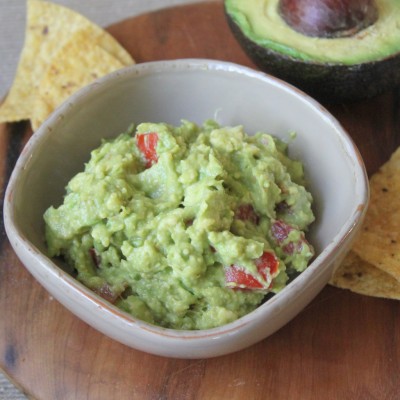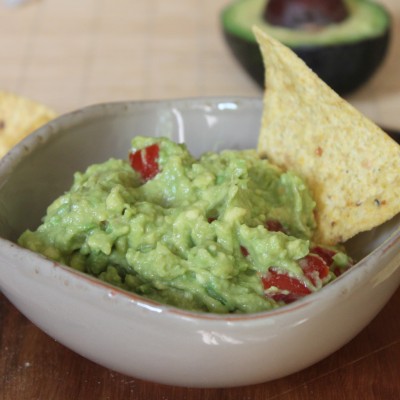 There is no comparison between homemade and store-bought guacamole.  The latter is typically thick, tasteless and overall pretty boring.  Homemade versions, on the other hand, are packed full of fresh garden flavor and each bite provides a different combo of tastes and textures.
The following recipe is my family's favorite basic version but we change up the ingredients depending on what we have on hand.  We really like the combination of salsa verde with the chopped tomatoes but if we don't have salsa verde, we use any other salsa.  Sometimes I squirt some lime juice in the dip or stir in some chopped cilantro to mix it up.  The result is a creamy, flavorful guacamole that, in my opinion, complements just about any dish. 

Author:
Itsy Bitsy Foodies
This basic guacamole recipe is my family's favorite version but we mix it up depending on what ingredients we have on hand.
Ingredients
2 medium-sized avocados
Roughly 2-3 Tbsp Salsa Verde
¼ cup chopped tomatoes
½ - 1 tsp salt, to taste
2 drops of hot sauce (such as Tabasco)
½ - 1 tsp garlic powder, to taste
Instructions
Scoop the flesh of the avocado into a bowl, using a spoon to easily get all of the avocado from the skin.
Mix in the rest of the ingredients and mash until it is your desired consistency.
You can use less or more salsa depending on how much avocado flesh you end up with. In my family, we prefer chunky guacamole so we usually use less salsa so that it doesn't become too runny.
Serve it immediately.
If you have leftovers, cover the guacamole with plastic wrap, sealing the bowl but also pressing the plastic wrap directly onto the guacamole. This will help prevent the guacamole from turning brown.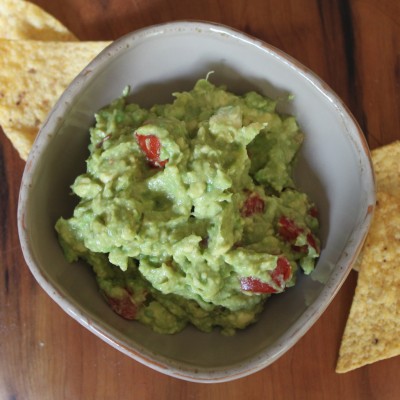 Tags: avocados, chips and dip, guacamole, salsa verde, tomatoes