Print This Recipe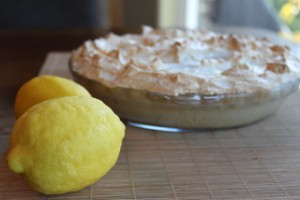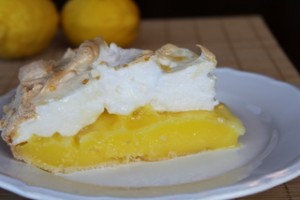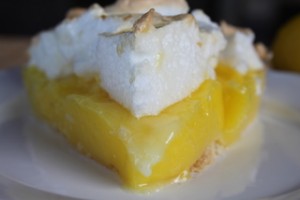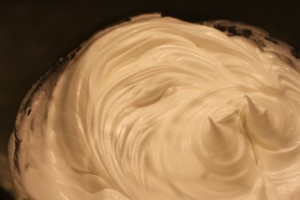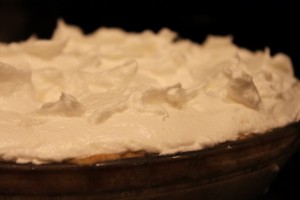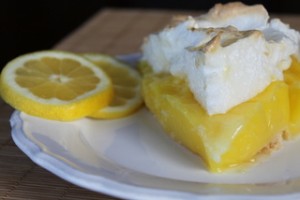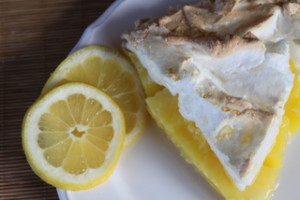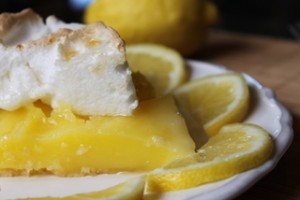 My mother-in-law makes the best lemon meringue pie so I am thankful that she shared her recipe with me!  As far as meringue pies go, it is fairly easy because her recipe calls for a box of lemon pudding as the base.  But her secret is to add some butter and fresh lemon juice to the pudding mix.  This makes the pie creamy and adds a burst of crisp lemon zest flavor that can only come from fresh lemons.  You can use the pie crust of your choice.  I used my Easy Pie Crust because it is so simple.
Ingredients
1 large box of lemon pudding mix
3/4 cup sugar
3 cups water
3 beaten egg yolks
2 Tbsp lemon juice
2 Tbsp butter
4 egg whites
1/2 cup sugar
1/4 tsp salt
Prepare the pie crust and place it in a 9-inch pie pan.  Prick the bottom and sides of the crust multiple times with a fork to keep it from puffing up while baking.  Bake it at 400 degrees for 10 minutes, or until it is light golden.  Let the crust cool.
Start by following the directions on the pudding box.  Mix the pudding mix, 3/4 cup sugar, 1/2 cup water, 3 beaten egg yolks and 1/2 cup water in a medium sauce pan.  Stir in an additional 2 1/2 cups of water.  Bring the mixture to a boil on medium heat, stirring it constantly.  Once it starts bubbling, stir in 2 Tbsp each of butter and fresh lemon juice.  Let it boil, continuing to stir it constantly, until it thickens into a pudding.  Remove it from the heat and let it cool for five minutes, stirring it twice. 
Pour the pudding into the baked and cooled pie crust.
To make the meringue:
Bring the eggs to room temperature.  Beat 4 egg whites and 1/4 tsp salt on high speed until soft peaks form.  Add 1/2 cup sugar (2 Tbsp at a time), beating after each addition until the sugar is completely dissolved.  If you rub some meringue between two fingers, it should be smooth.  If it is gritty, continue beating it.  Once all of the sugar is dissolved, continue beating the egg whites until stiff, glossy peaks form.
Spread the meringue over the lemon filling with the back of a spoon, sealing it to the edge of the pie crust.  Use the back of the spoon to swirl the meringue into attractive peaks.  Bake the pie at 400 degrees for 10 minutes or until the meringue is golden.
TIP: Once the pie has finished cooking, turn off the oven, crack the oven door, and leave the pie in the oven to cool.  This will help keep the meringue from separating from the lemon filling.
For the 4-egg white meringue, I referenced:
The Good Housekeeping Illustrated Cookbook.
Tags: egg whites, lemon juice, lemon pudding