Print This Recipe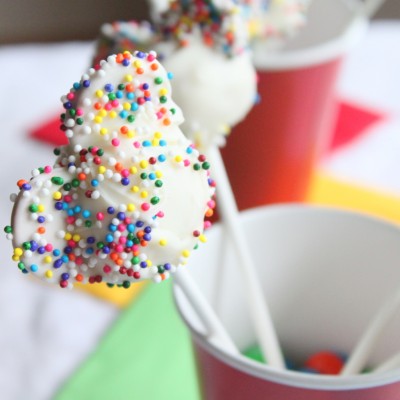 After discovering how much my family loved cake pops this summer they were a must for the dessert menu for my son's 3rd birthday party.  Working with the Mickey Mouse Clubhouse theme I transformed the cake pops into Mickey Mouse heads using Necco wafers.  I sprinkled them with rainbow non-pareils in the spirit of Toodles and to fit the rainbow color scheme of the party.  I used a basic white cake and buttercream frosting combo because that is one that my family loves but you could use the cake and frosting of your choice.

Author:
Itsy Bitsy Foodies
Prep time:
Cook time:
Total time:
It's easy to transform cake pops into the iconic Mickey Mouse head using Necco wafers. Decorate them with rainbow sprinkles for Oh, Toodles! Cake Pops or transform them into Mickey or Minnie Mouse.
Ingredients
White Cake
3½ cups flour
2 tsp baking powder
½ tsp baking soda
1¾ cups sugar
¼ cup butter
1½ Tbsp oil
2 egg whites
1⅔ cups milk
½ cup plain, fat-free yogurt
2½ tsp vanilla
Buttercream Frosting
3¾ cups powdered sugar
½ cup butter, softened
1 tsp vanilla
3 Tbsp milk
Cake Pops
Necco wafers, 2 per cake pop
White Wilton candy melts
Rainbow sprinkles
Lollipop sticks
Instructions
White Cake
Cream the butter, oil and sugar.
Add the egg whites and beat well.
Add the vanilla, milk and yogurt alternately with the flour, baking powder and baking soda.
Pour the cake batter into 3 greased and floured 8-inch round cake pans.
Bake at 350 degrees for 25 minutes or until the cake is a light golden brown and a toothpick comes out clean. The top of the cake should spring back to the touch.
Buttercream Frosting
Mix the ingredients and beat for several minutes until a smooth, creamy frosting forms.
Adjust the consistency of the frosting by adding more powdered sugar or milk as needed.
Cake Pops
Once the cake has cooled, crumble it into pea-sized or smaller pieces.
Mix in the frosting a spoonful or two at a time, adding just enough so that when rolled the cake mixture stays in balls without crumbling apart.
Roll the dough into balls and place them on a wax paper-lined cookie sheet.
Refrigerate them for 15-30 minutes.
Melt a small portion of chocolate and dip the ends of each lollipop stick into the chocolate.
Immediately insert a chocolate-dipped lollipop stick into each cake ball so that it is inserted about half way through the cake ball.
Dip the bottoms of the Necco wafers into the melted chocolate and insert them into the top of the cake pop for the Mickey Mouse ears.
Rest the cake pops in a glass or place them on their side on a waxed paper-lined cookie sheet and place them in the freezer to set for 30 minutes - 1 hour.
Melt the white candy melts in a deep glass or bowl.
Working with one cake pop at a time, dunk it in the white chocolate and swirl it around until the chocolate covers the cake pop up past the point where the chocolate-dipped stick is inserted into the cake.
Swirl it and tap off any excess chocolate.
Decorate them with rainbow sprinkles.
Place them in a short glass or in styrofoam with holes poked in it to allow them to dry completely.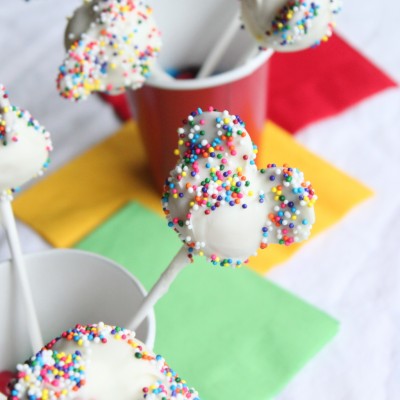 Tags: buttercream frosting, cake pops, Mickey Mouse cake pops, Mickey Mouse Clubhouse, Toodles, white cake