Print This Recipe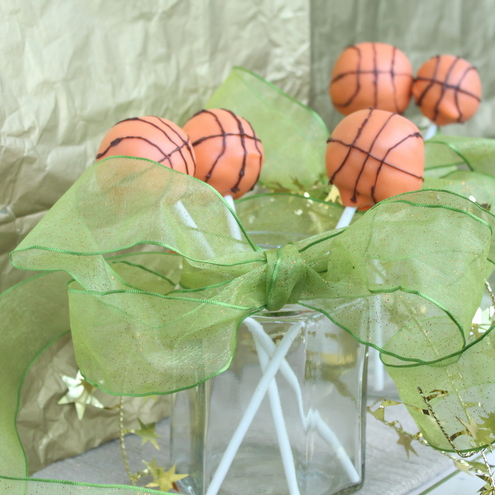 I had some leftover cake so I decided to make basketball cake pops for the Men's NCAA championship game tonight.  They would be great for any basketball game, sports party or treats for a basketball team.  They are easy to make but I found the teeny icing tip to be very unforgiving.  I definitely need more practice to get straight lines before I serve them at a party but you get the picture…and they were just fine for my family.
When I make cake pops I typically use a basic white cake with vanilla buttercream frosting.  This time I used a combination of carrot cake and cream cheese frosting.  You can use the cake and frosting combo of your choice.

Author:
Itsy Bitsy Foodies
Basketball cake pops would be a fun addition to any basketball-themed party and they'd make cute treats for your child's basketball team.
Ingredients
Cake, crumbled
Frosting, to taste
Orange Wilton candy melts
Chocolate chips or black icing
Lollipop sticks
Instructions
Once your cake has cooled, crumble it into pea-sized or smaller pieces.
Mix in the frosting a spoonful or two at a time, adding just enough so that when rolled the cake mixture stays in balls without crumbling apart.
Roll the dough into balls.
Place them on a wax paper-lined cookie sheet.
Refrigerate them for 15-30 minutes.
Melt a small portion of the orange Wilton candy melts and dip the ends of each lollipop stick into the chocolate.
Immediately insert a chocolate-dipped lollipop stick into each cake ball so that it is inserted about half way through the cake ball.
Place the cake pops back onto the waxed paper or stand them up in a glass and freeze them for 30 minutes to 1 hour.
Melt the remaining orange Wilton candy melts in a deep glass or bowl.
Working with one cake pop at a time, dunk it in the chocolate and swirl it around until the chocolate covers the cake pop up past the point where the chocolate-dipped stick is inserted into the cake.
Swirl it and tap off any excess chocolate.
Place it in a short glass or in styrofoam with holes poked in it to allow the chocolate to harden.
Melt the chocolate in a double-boiler.
Transfer the melted chocolate to a cake decorating bag fitted with a small, round tip.
Once the orange chocolate on the basketballs has hardened, pipe the basketball marks on each basketball cake pop using the melted chocolate or black icing.
Place them in a short glass or in styrofoam with holes poked in it to allow them to dry completely.
If using cream cheese frosting, refrigerate the cake pops if not consumed immediately.
Tags: Bakerella, basketball cake pops, basketballs, cake pops, March Madness, sports ball cake pops