Print This Recipe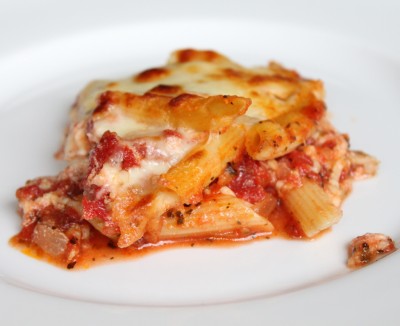 My mom has been making this pasta dish for many years now, ever since she found it in a Williams-Sonoma catalog back in 2002.  Its simple Italian flavors come together quickly to make a sophisticated meal.  It is similar to my Pizza Pasta and also closely resembles a traditional lasagna with the ricotta cheese.  You can use homemade chicken sausage or the store-bought variety of your choice (my family likes to use Isernio's if we are buying sausage).  For some additional flavor, my family sometimes mixes some crumbled Feta cheese into the dish.  And we often use fewer noodles than listed in the recipe, mixing everything to taste and to reach our desired texture. 
Author:
Itsy Bitsy Foodies
Prep time:
Cook time:
Total time:
Ingredients
2 T olive oil
1 onion, chopped
2 garlic cloves, minced
¾ pound chicken or turkey sausage, casings removed
1 tsp basil
1 tsp oregano
¼ tsp red pepper flakes
28-ounce can coarsely-chopped tomatoes
16 ounces penne pasta, cooked and drained
1 cup ricotta cheese
2 cups mozzarella cheese
½ cup Parmesan cheese
Instructions
Cook the onion and the garlic in the olive oil over medium heat in a large pan.
Add the chicken sausage and cook until the meat is browned.
Add the seasonings and the tomatoes.
Cook the sauce over medium-low heat for 10-12 minutes, stirring until the sauce has thickened slightly.
In a large bowl, toss the cooked pasta, chicken sausage sauce, ricotta cheese and mozzarella cheese.
Spread the pasta mixture in a greased 9×12 pan.
Sprinkle the pasta mixture with Parmesan cheese.
Bake the pasta casserole at 350 degrees for 30 minutes or until the cheese melts and the pasta ends are slightly crusty.
Let it cool for 5 minutes before serving.
Recipe source: Adapted from a Williams-Sonoma catalog, January 2002 {The catalog recipe was adapted from Williams-Sonoma Collection Series, Chicken, by Rick Rodgers (Simon & Schuster, 2001)}
Tags: basil, casserole, chicken sausage, garlic, pasta, ricotta cheese