Print This Recipe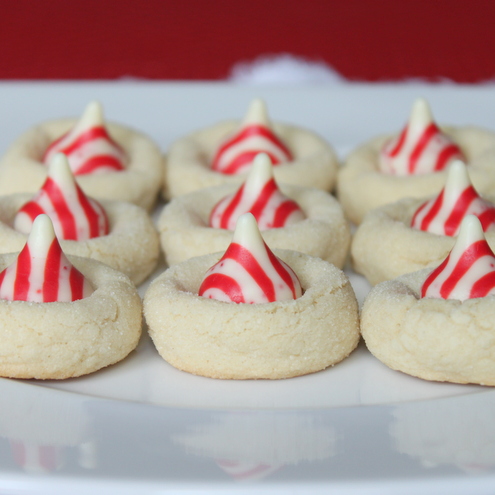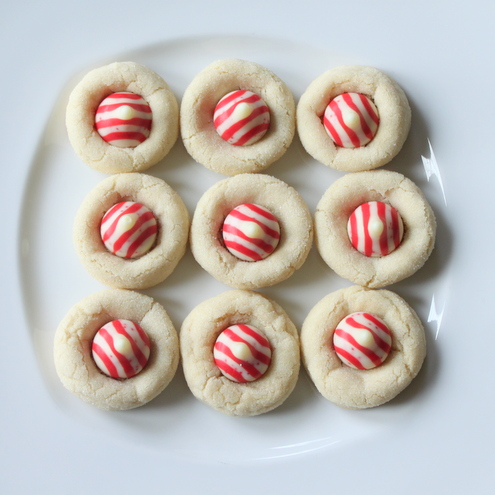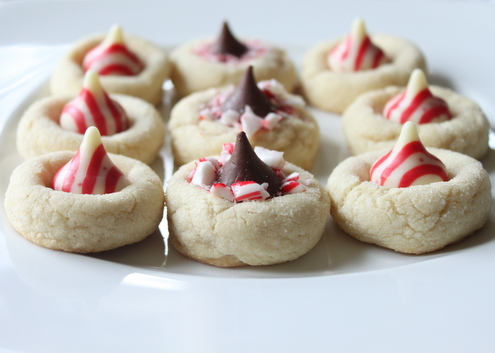 Inspired by the peanut butter chocolate kiss cookies that, to me, have always seemed so fitting for Valentine's Day, these little Hershey's kiss gems even fit the color scheme for the big day of hearts.  And the melt-in-your-mouth vanilla sugar cookie makes a neutral base that can work with any color or flavor of Hershey's kiss, for any time of year.
In fact, I initially made these Peppermint Kiss Cookies for my Christmas cookie boxes, and then they were so good that I had to make a second batch for a party.  They are easy, festive and actually melt in your mouth (especially when you have a warm one, while the Hershey's chocolate is still melted around the base, forming a gooey chocolate pool on top of the warm sugar cookie).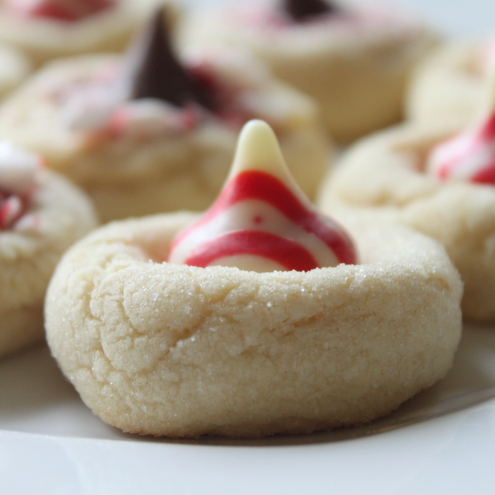 For the first batch that I made, I simply followed the recipe for the peanut butter kiss cookies but substituted butter for the peanut butter and though they were delicious, they were pretty dense and rich.  I continued experimenting and for the second batch I omitted the shortening and then added powdered instead of granulated sugar to consistency, creating the following recipe that I will continue to use.

Peppermint Kiss Cookies
Author:
Itsy Bitsy Foodies
Prep time:
Cook time:
Total time:
These melt-in-your-mouth vanilla sugar cookies make a neutral base that can work with any color or flavor of Hershey's kiss, for any time of year.
Ingredients
½ cup butter, softened
1¼ cup powdered sugar
1 egg
1 tsp vanilla
1 tsp baking soda
½ tsp baking powder
2 - 2¼ cup flour
Granulated sugar
30-35 candy cane Hershey's kisses (or Mint Truffle Kisses or Chocolate Kisses with crushed candy cane)
Instructions
Cream the butter and the sugar.
Beat in the egg.
Stir in the baking soda, baking powder and vanilla, and then gradually stir in the flour until the cookie dough is a consistency that can be easily rolled into smooth balls, not crumbly or sticky.
Place the balls on a greased baking sheet. (I made small, ¾-inch balls).
Bake the cookies at 350 degrees 7-9 minutes until the bottom of the cookies are lightly golden.
While the cookies bake, remove the wrapper from the Hershey kisses.
Remove the pan from the oven and immediately press a Hershey kiss into the center of each cookie.
Let the cookies cool for 5 mins and then transfer them to a wire rack to cool completely.
Tags: candy cane, candy cane kiss cookies, Christmas cookies, Hershey's kiss cookies, Hershey's kisses, mint, peppermint, sugar cookies, Valentine's Day cookies