Print This Recipe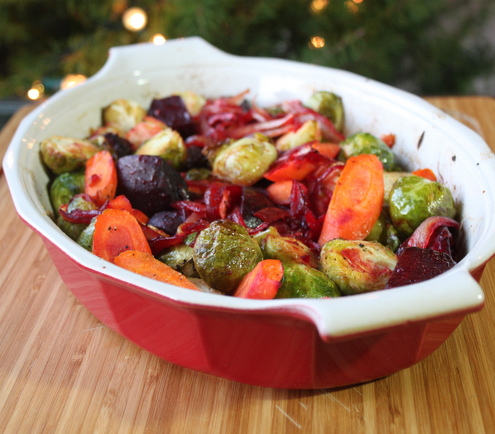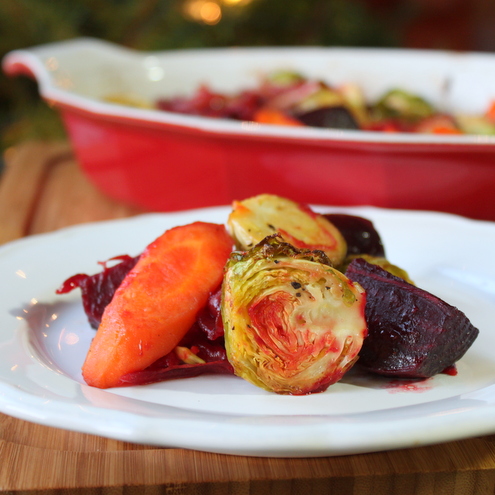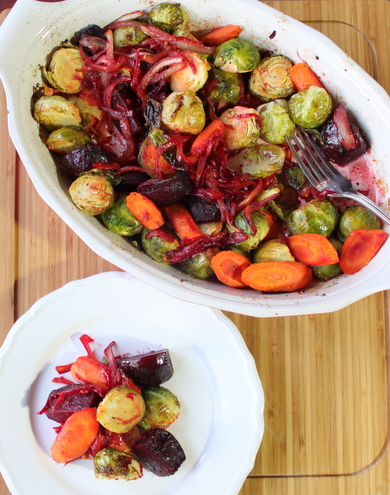 Starting last fall I've been on a brussels sprout kick.  Despite my comical childhood memories of plugging my nose while eating them, I've been craving them lately.  My family loves our caramelized beets so much so I thought that would be a good starting point.  It turns out that the beets are a perfect base for a roasted veggie medley, and brussels sprouts, beets and carrots make a colorful combo.
I simply used the recipe for the beets, cooking them for 30 minutes, and then tossed the brussels sprouts and carrots in with the beets and the caramelized juices and continued cooking until all veggies were fork-tender.  Since I hadn't roasted brussels sprouts before, I followed the basic guidelines over at Whole Foods to get an idea of cook time.  The veggies were a colorful and easy side dish that was easily transportable to our Thanksgiving dinner and we have enjoyed this recipe all winter long.  I even like the leftovers cold and chopped over a spinach-blue cheese-vinaigrette salad.
If you mix in more of your favorite veggies, just be sure to factor in the different cooking times.

Roasted Brussels Sprouts, Beets & Carrots
Author:
Itsy Bitsy Foodies
Prep time:
Cook time:
Total time:
This caramelized roasted veggie medley is a colorful, nutritious and comforting vegetable side dish for the winter holidays and all winter long.
Ingredients
3 large beets
1 large purple onion
2-3 garlic cloves
2 Tbsp olive oil
1 Tbsp brown sugar
1 tsp sea salt
1 pound brussels sprouts, trimmed and halved
Splash of olive oil
Dash of salt & pepper
2-3 carrots, sliced on the diagonal
Instructions
Peel the beets and cut them into large chunks.
Peel the onion and chop it into thin slices.
Mince the garlic.
Toss the beets, onions and garlic with the oil, sugar and salt in a glass baking dish.
Bake the beets at 350 degrees for 30 minutes, stirring them after 15 minutes so that the beets cook evenly.
While the beets begin cooking, prepare the brussels sprouts.
Rinse them and trim off the end, removing any undesirable outer layer.
Cut them in half and toss them in a medium-sized bowl with a splash of olive oil, and a dash salt and pepper. (You don't need much because they will mix with the caramelized juices of the beets.)
Stir in the sliced carrots.
After the beets have cooked for a half hour, increase the temperature of the oven to 400 degrees, remove the beets and toss in the brussels sprouts-carrot mixture.
Return the pan to the oven and cook for an additional 30 minutes or until the vegetables are tender, stirring the veggies every 10 minutes or so.
Serve the roasted veggies immediately.
Tags: beets, brussel sprouts, brussels sprouts, caramelized veggies, carrots, oven-roasted beets, oven-roasted brussel sprouts, oven-roasted vegetables, roasted brussels sprouts, roasted vegetables, roasted veggie medley, vegetables