Mon, Oct 1, 2012
Around the World, Chicken & Turkey, Disguising Healthy Foods, Europe, France, Healthy Aperture, Honest Cooking, Italy, Itsy Bitsy Foodies Sightings, Main Dishes, Search by Course

Print This Recipe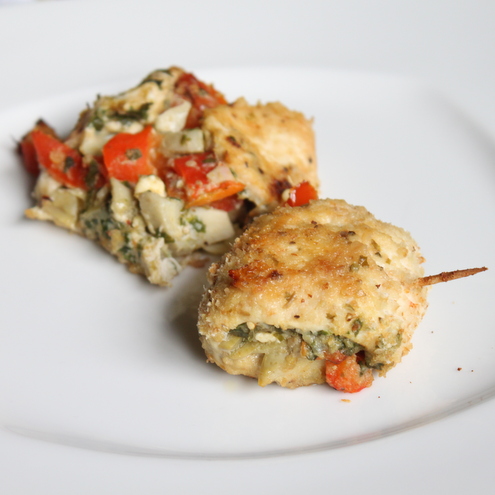 I had some leftover pistou after a recent batch so I decided to experiment with a chicken dish.  In this chicken cordon bleu -inspired chicken, the chicken is stuffed with pistou/pesto, artichoke hearts, feta cheese and roasted red peppers.  Ham could even be rolled up into the mix.  I will definitely be making this again and pesto could easily be substituted if you have that instead.  I actually ate this healthy dish plain but to complete the meal you could serve it over many things such as spinach salad, quinoa tossed with cherry tomatoes, or pasta.
Author:
Itsy Bitsy Foodies
Prep time:
Cook time:
Total time:
In this cordon bleu-inspired chicken, the chicken is stuffed with pistou/pesto, artichoke hearts, feta cheese and roasted red peppers.
Ingredients
Pistou
4 cups basil leaves
2 garlic cloves
¼ cup chicken broth
1 Tbsp grated parmesan cheese
1 Tbsp olive oil
Pesto
Roughly ½ cup basil leaves, washed and patted dry
Roughly ½ cup spinach leaves, loosely packed
¼ cup Romano or pecorino cheese, grated
¼ cup pine nuts
2 Tbsp olive oil
1-2 garlic cloves, minced
Pesto Chicken Roll-ups
Chicken tenders or chicken breasts cut in half lengthwise
Pesto or pistou
Artichoke hearts, chopped
Roasted red peppers in strips
Feta cheese crumbles
½ cup plain breadcrumbs
1 egg
1 Tbsp milk
1 tsp garlic powder
¼ tsp salt
Dash of black pepper
Dash of cayenne pepper, optional
¼ tsp thyme
1 Tbsp Parmesan cheese
Instructions
Pistou
Mix all of the ingredients in a blender until smooth.
Store the sauce in a sealed container in the refrigerator or freezer.
Pesto
In a blender, blend the cheese and the pine nuts for a few seconds.
Drizzle in the olive oil and blend the mixture until it is smooth.
Add the garlic and then the basil and the spinach, a little at a time, blending until smooth.
Use the pesto sauce immediately or refrigerate it or freeze it in a sealed container.
Pesto Chicken Roll-ups
Pound the chicken breasts until they are very thin.
Spread pistou/pesto down the center of the breast and then top with roasted red peppers, artichoke hearts and feta cheese.
Roll up the chicken breast as tightly as possible and fasten the roll together with a toothpick.
Beat an egg with 1 Tbsp milk in a shallow bowl.
In another shallow bowl, mix the breadcrumbs with the garlic powder, salt, pepper, cayenne pepper, thyme and Parmesan cheese.
Dip each rolled chicken breast into the egg and then dredge it in the breadcrumb mixture.
Place the chicken breasts on a baking sheet lightly coated with cooking spray.
Bake them at 375 degrees for roughly 10 minutes on each side, until the chicken is cooked all the way through.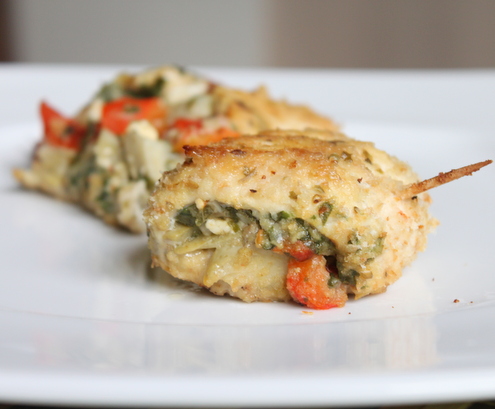 Tags: artichoke hearts, feta cheese, pesto, pesto chicken, pistou, pistou chicken, roasted red peppers, stuffed chicken