Print This Recipe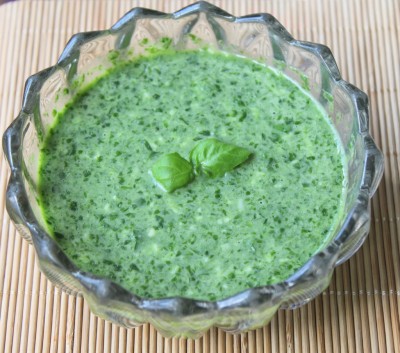 Not all pestos are made with pine nuts.  Those with pine nuts come from Italy.  This variation, sans pine nuts, has origins in Provence, France, where it is known as Pistou. 
I'm usually not a huge fan of pesto because the pine nuts make it so rich.  But I love this version of it.  It is much lighter and I don't miss the pine nuts at all.  It turns out, I'm a huge fan of Pistou.  A little still goes a long way, though.  I recently made a small batch (roughly a fourth) and it was enough for a heaping plate of chicken pistou pasta.
Author:
Itsy Bitsy Foodies
This French version of pesto is made without pine nuts and is lighter than yet just as flavorful as traditional pestos.
Ingredients
4 cups basil leaves
2 garlic cloves
¼ cup chicken broth
1 Tbsp grated parmesan cheese
1 Tbsp olive oil
Instructions
Mix all of the ingredients in a blender until smooth.
Store the sauce in a sealed container in the refrigerator or freezer.
Use the sauce in pastas or on pizzas.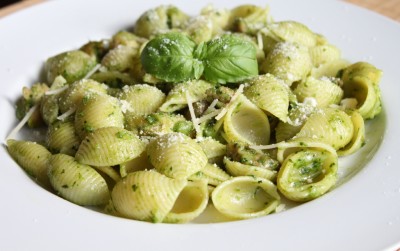 Recipe source: Cooking Light magazine
Subscribe to Cooking Light: Cooking Light (1-year)
Tags: basil, garlic, parmesan cheese, pesto, pistou