Sat, Sep 11, 2010
Appetizers, Around the World, Chicken & Turkey, Foodgawker, Itsy Bitsy Foodies Sightings, Main Dishes, Mexico, North America, Search by Course, Steak & Beef

Print This Recipe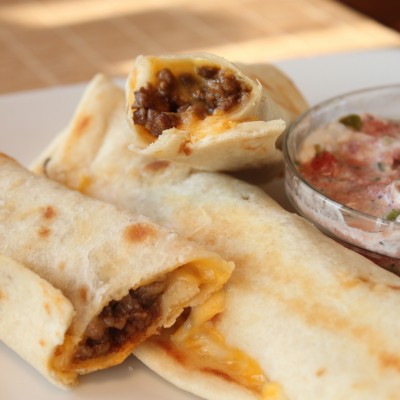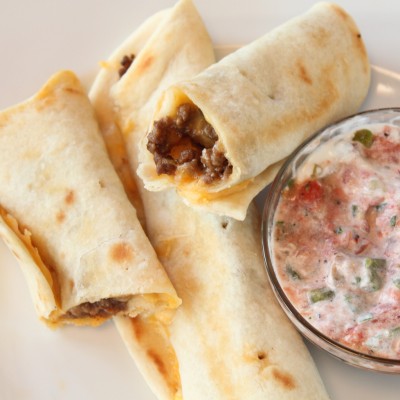 Flautas (Spanish for flutes) are a similar concept as taquitosbut are typically a little larger and made with flour tortillas.  As I did with my taquitos, I baked my flautas for a healthier version, filling homemade flour tortillas with a simple taco beef filling and cheese.  You can adjust the seasonings of the meat to suit your taste or use a different type of pepper, such as a jalapeño or a pasilla, to make the meat less spicy.  To keep the flautas tightly-rolled while I cooked them, I secured the tortillas in place with a couple of toothpicks. 

Author:
Itsy Bitsy Foodies
Prep time:
Cook time:
Total time:
These baked beef flautas are simply made by rolling homemade flour tortillas with a simple taco beef filling and cheese.
Ingredients
Flour tortillas
Grated cheese
1 pound ground beef, turkey or chicken
1 serrano pepper, minced
2-3 drops hot sauce, optional
¼ cup finely chopped onion
Dash of cayenne pepper
¼ tsp salt
¼ tsp chili powder
¼ tsp garlic powder
Instructions
Lightly coat a pan with oil and heat it over medium heat.
Add the chopped onions and peppers and cook them for five minutes or until they are translucent.
Set the cooked veggies aside.
Add the ground beef to the pan and begin cooking it over medium heat.
As the meat cooks, add the spices and the cooked onion and pepper mix.
Once the beef is fully cooked, sample the meat and adjust the seasonings to taste.
Sprinkle a little bit of grated cheese and a spoonful of taco meat along the side of a tortilla.
Starting with the side with the filling, roll up the tortilla until it is in a tight roll, securing it in place with one or two toothpicks.
Place the flautas in a greased 9×13 baking pan.
Once the pan is full, bake them at 350 degrees for 10-15 minutes until they are warmed and the cheese is bubbling.
You can also pan-fry the flautas by cooking them in a pan lightly-coated with cooking oil over medium heat, turning them as they cook so that they are golden-brown on each side.
TIP: I cover the pan with aluminum foil while baking the flautas to help keep the tortillas moist.
Tags: beef, cheese, flautas, flour tortillas