Print This Recipe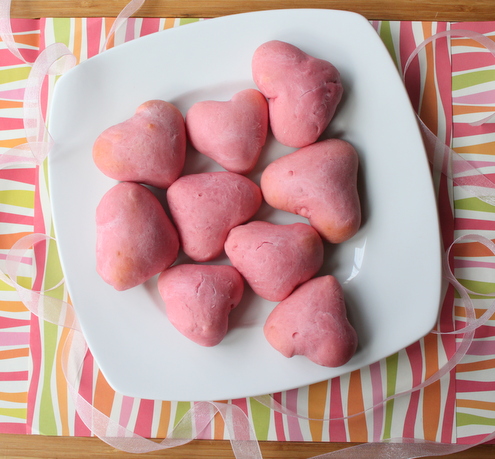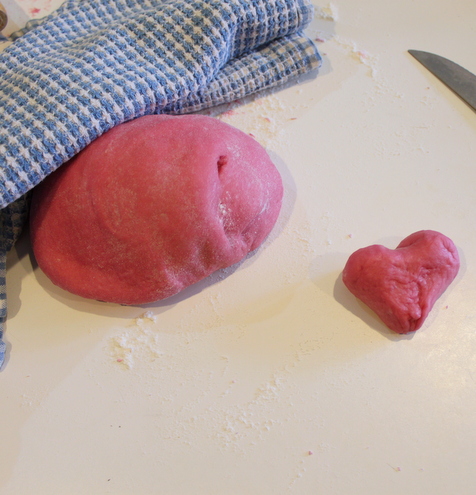 My sons love our homemade spinach rolls and they are naturally a cool green color.  With all of the natural food dyes I've worked with, I've often wondered what would happen if I added some beet juice to the rolls instead of spinach.  With Valentine's Day just around the corner, it was the perfect time to test it.
For ease I used the juice from whole canned beets but you could also juice beets in a juicer or puree of cooked beets.  The bread dough was a beautiful vibrant pink and both of my boys (1 and 4 years old) loved working with the dough.  It reminded us of playdough.  We had fun shaping some of the rolls into heart shapes but we learned that you need to exaggerate the shape when forming the rolls so that they don't turn into blobs after rising.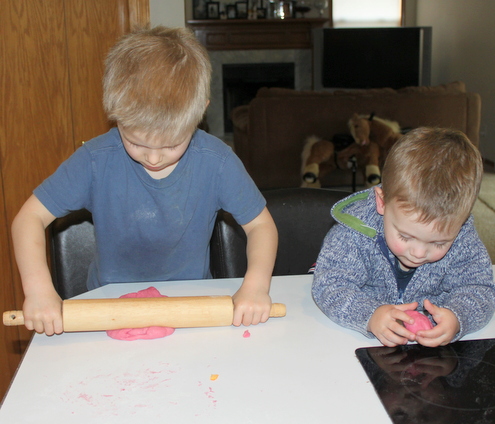 The beautiful pink color survived the baking process and there was not even the slightest beet flavor.  Enjoy these rolls any time of year (beet pink, spinach green or plain) for sandwiches or a side.
Happy Heart Day!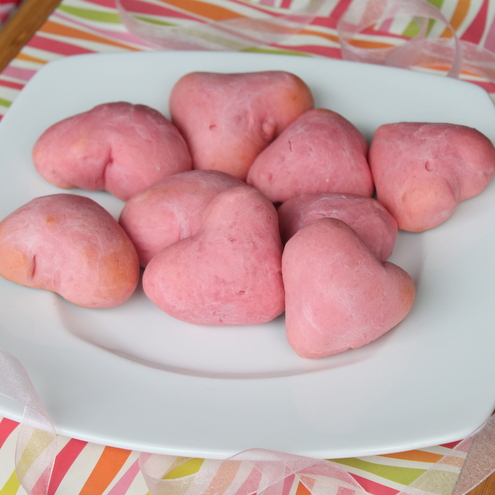 Beet Dinner Rolls
Author:
Itsy Bitsy Foodies
Prep time:
Cook time:
Total time:
These naturally-dyed pink beet rolls are a festive Valentine's Day treat.
Ingredients
⅓ cup sugar
1½ tsp salt
4½ tsp yeast
4½ – 5 cups all-purpose flour
¾ cup milk
¼ cup beet juice
¼ cup butter
2 eggs
Optional Glaze
Instructions
Mix the sugar, salt, yeast and 1½ cups flour in a large mixing bowl.
In a saucepan, mix the butter, milk and beet juice over medium-low heat, stirring constantly until the butter melts.
Gradually pour the hot liquid into the dry ingredients and mix well for two minutes.
Continue mixing and add the eggs.
Then add ½ cup flour and beat the dough for 2 minutes to form a soft dough.
Gradually add 2 – 2½ cups flour.
Turn the dough onto a lightly-floured surface and the knead the dough for ten minutes until it is soft, elastic and forms a ball.
Place the ball in a greased bowl and then flip it over so the greased side faces up.
Cover the bowl with a towel and let the dough rise until has doubled, about 1 hour.
Dump the dough onto the floured work surface, cut the dough in half, cover the two dough pieces with a towel and let the dough rest for 15 minutes.
Cut each half into twelve pieces and shape each piece into a ball or a heart.
Place the dough balls on a greased baking sheet (12 on each pan), cover the balls, and let them rise for 30 minutes.
Brush the rolls with the milk-egg glaze if you want a shiny finish on your rolls.
Bake the rolls at 400 degrees for 7-10 minutes until they are lightly golden brown. You can always pull one apart to make sure they are cooked through the center.
If they are getting too browned but need to cook longer, cover them with foil and continue baking.
Tags: beet rolls, bread, dinner rolls, heart rolls, natural food dyes, pink rolls, Valentine's Day rolls