Print This Recipe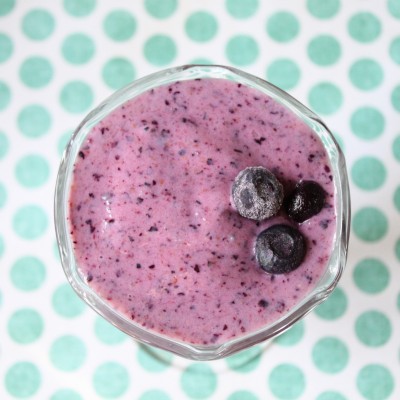 Smoothies are similar to milkshakes so most kids love them. (My son does!)  We have a smoothie just about every morning.  They also make a nutritious afternoon snack and can be taken in a to-go cup when you are in a hurry.  It is so easy to make them at home, allowing you to control the amount of sugar in them.  I don't add any extra sugar because the fruit juice, fruits and yogurt make the drink plenty sweet.  By using frozen berries you can enjoy smoothies all year long.  This refreshing blueberry smoothie tastes like blueberry sherbet and is loaded with antioxidants.  Add a banana for a creamier texture and extra potassium.  If you're in the mood for more of a variety of fruits try our fruit smoothie, another family favorite.

Author:
Itsy Bitsy Foodies
Smoothies are like milkshakes so most kids love them. This blueberry smoothie is loaded with antioxidants and makes a refreshing breakfast or afternoon snack.
Ingredients
4 ounces of light blueberry yogurt
¾ cup frozen blueberries
1 banana, optional
¼ cup orange juice, to desired consistency
Instructions
Mix all of the ingredients in a blender on high speed until smooth.
Add more liquid for a runnier smoothie and more frozen berries for a thicker, icier drink.
Tags: banana, blueberries, fruit, orange juice, yogurt