Print This Recipe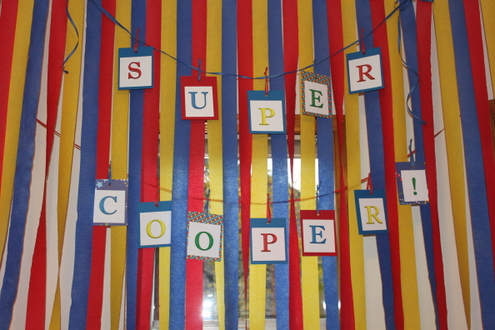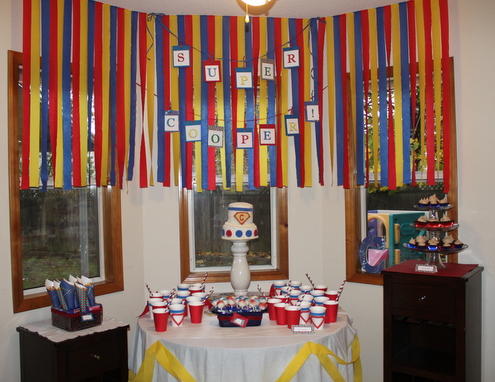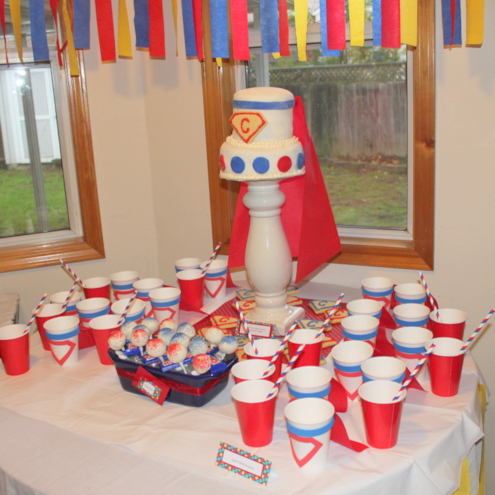 Our now 4-year old has been our little Super Cooper since the day he was born so when he requested a Super Hero 4th birthday party it was a natural choice.  The bold colors of red, blue, yellow and green and the high energy of super heroes fit our son perfectly.  He doesn't have a favorite super hero (and he's one of a kind!) so I didn't focus on any specific super hero but tried to incorporate general super hero traits into the party.
In case you haven't noticed by now, my main interest in parties has always been the dessert table but the more I spend time creating the invites and decorations for my boys' parties, the more I enjoy that part as well.  When I'm working on craft projects late into the night it seems a little bit crazy but it's my "me" time and I've discovered that, just like baking, it's therapeutic for me.
We happened to have a series of super hero pictures from the previous summer so they worked perfectly for the invitation.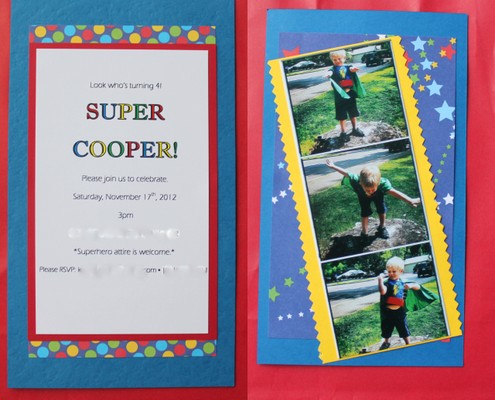 Though I kept it generic, I couldn't resist using the iconic Superman badge on the cups, the cake and the cookies.  While perusing Pinterest, I saw some super hero cups via Etsy (a link that is now off-line) that inspired these DIY Super Power Smoothie cups…and ultimately guided my brainstorming to adding a cape to the Super Cooper cake.  For the cups, foam stickers were easy to cut and place for the blue band and the red badge, and tissue paper made nice, flowing capes.  Inside the badge is the perfect place to write names or initials for the party guests.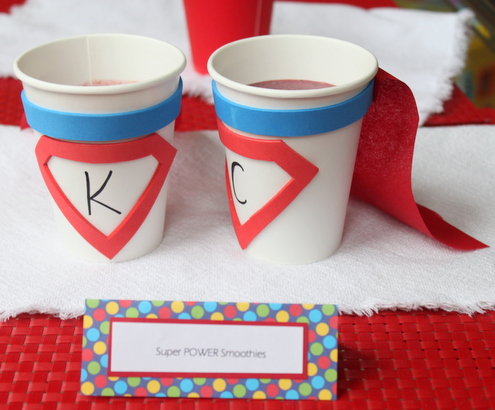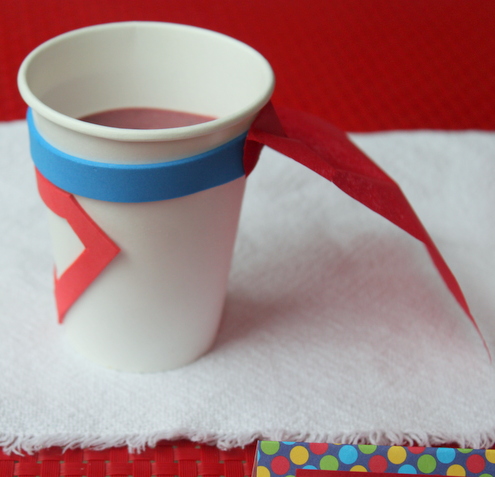 The Super Cooper cake was the centerpiece of the table.  I have worked very little with fondant.  In fact, this is only the 2nd fondant cake that I've made and the first one that I've shared outside of family.  I've never been a big fan of fondant for taste but I have grown to love it for the fact that you can get exact colors to match your theme and then peel it off without consuming the artificial food dyes.  A sugar cookie Super Cooper badge and red tissue paper cape were the finishing touches for the cake.  Based on my son's request, the cake was comprised of chocolate and white layers, filled with buttercream frosting.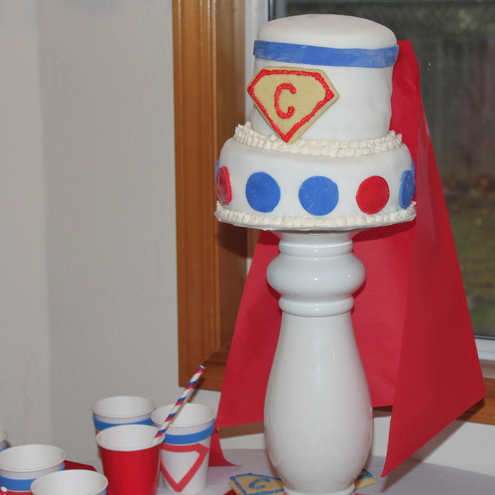 The Super Cooper cookies were an easy addition.  I didn't have a cookie cutter so I cut out a paper pattern and used a pizza cutter to cut out each cookie.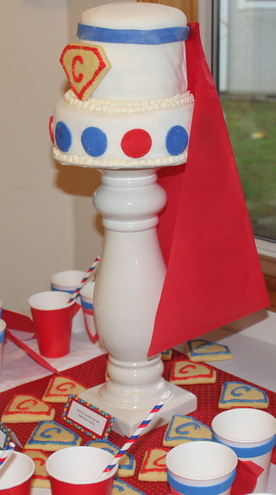 My son loves cake pops so I used some extra cupcakes to make basic cake pops, decorated with the coordinating red and blue sprinkles.  I filled a blue baking dish with decorative rocks and stuck the cake pops into the rocks.  One of his favorite types of candy is CRUNCH bars, which fit the super hero theme, so they were a great decoration to cover the decorative rocks in the caramel corn and cake pop displays.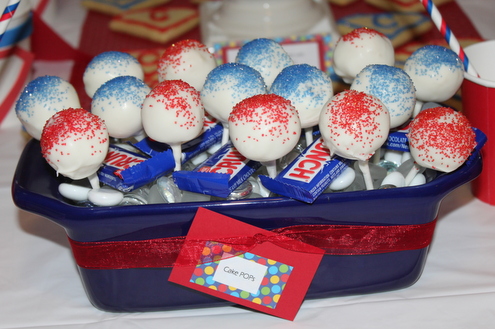 Caramel POPcorn was another sweet snack.  I rolled paper into cones and stuck the caramel corn cones in a vase filled with decorative rocks topped with CRUNCH bars.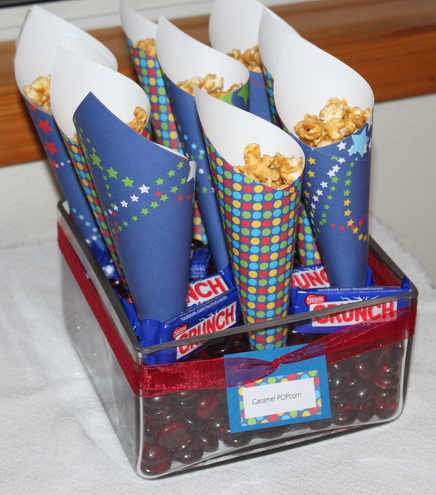 Cranberry PUNCH fit the color theme and was a nice festive beverage option for kids and adults.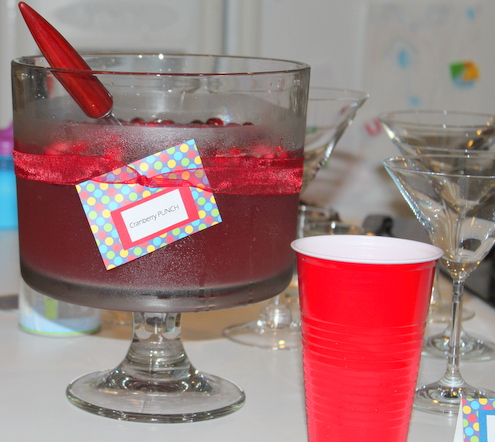 And all of the moms could enjoy SUPER MAMA-tinis: Prosecco cranberry punch.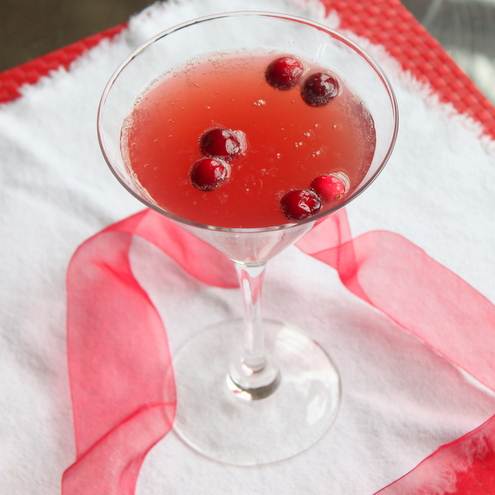 For party favors and activities, the kids decorated super hero masks and could fill treat bags with piñata candy, homemade crayons, glow sticks, bubbles and Super Hero coloring sheets.
Here's one of my little Super Heroes, enjoying the party.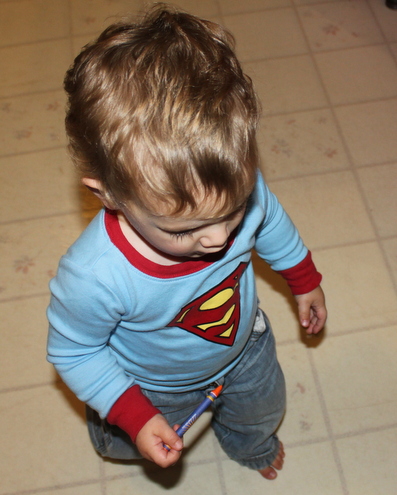 Cake Time!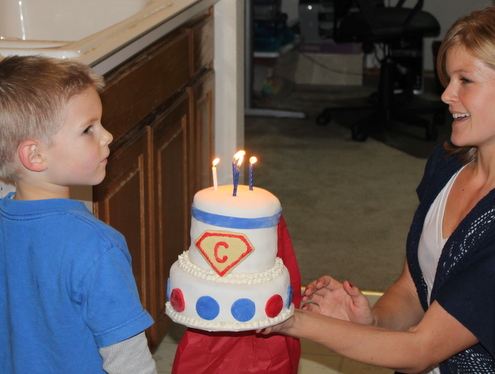 Happy 4th Birthday, Super Cooper!
Tags: birthday party, cranberry punch, kids birthday party, super hero, super hero birthday cake, super hero cake, super hero cups, super heroes, super mama-tinis, super power smoothies