Mon, Jan 13, 2014
Breads, Breakfast, Christmas, DessertStalking, Dishfolio, Foodgawker, Fun Family Activities, Holidays, Itsy Bitsy Foodies Sightings, Pancakes, Waffles & More, Photograzing, Search by Course, Thanksgiving, Yeast Breads

Print This Recipe
Homemade cinnamon rolls have always been one of my favorite breakfast/pastry treats.  Over the holidays I made spinach rolls with pumpkin instead of spinach.  They were inspired by my pumpkin bagels, a favorite autumn treat, which acted as my referenced for determining the ratio of pumpkin and spices.  One batch makes a lot of rolls so with a portion of the dough I made these mini pumpkin cinnamon rolls.  {A full batch will make roughly 48 mini cinnamon rolls and they freeze well so you can save some for later.}
These bite-sized cinnamon roll poppers make ideal kid portions and would be perfect for a brunch party.  It's easy to make them in miniature by rolling the dough into a narrow rectangle and baking them in mini muffin tins.  I drizzled them with a powdered sugar glaze so that they weren't overpowered by the icing.  If I were to make full-size cinnamon rolls I would most likely ice them with cream cheese frosting or a combination of the glaze and a buttercream frosting.
You could use most roll recipes, including my other favorite dinner roll recipe which I typically use for cinnamon rolls.  Simply substitute pumpkin puree for all or part of the milk, depending on how runny your puree is.  I was using homemade pumpkin puree that was very runny so I did a straight substitution, using all of the pumpkin instead of the milk.  If you are using canned puree or any other thicker puree, stir in some of the milk to make it runnier and use the combination of milk and pumpkin to reach the total amount of liquid called for in the recipe.

Mini Pumpkin Cinnamon Rolls
Author:
Itsy Bitsy Foodies
Prep time:
Cook time:
Total time:
Make pumpkin cinnamon rolls in miniature form by rolling the dough into a narrower rectangle and baking them in mini muffin tins, perfect for kid portions and parties.
Ingredients
Pumpkin Rolls
⅓ cup sugar
1½ tsp salt
4½ tsp yeast
4½ – 5 cups all-purpose flour
1 tsp cinnamon
½ tsp nutmeg
¼ tsp ginger
1 cup pumpkin puree
¼ cup butter
2 eggs
Cinnamon Rolls
Softened butter
Cinnamon
Brown Sugar
Powdered Sugar Glaze
1 cup powdered sugar
½ tsp vanilla
1 Tbsp milk or water, to consistency
Instructions
Mix the sugar, salt, yeast and 1½ cups flour in a large mixing bowl.
Melt the butter in a microwave or over low heat on a stovetop.
Stir in the pumpkin puree.
Gradually pour the hot liquid into the dry ingredients and mix well for two minutes.
Continue mixing and add the eggs.
Then add ½ cup flour and beat the dough for 2 minutes to form a soft dough.
Gradually add 2 – 2½ cups flour.
Turn the dough onto a lightly-floured surface and the knead the dough for ten minutes until it is soft, elastic and forms a ball.
Place the ball in a greased bowl and then flip it over so the greased side faces up.
Cover the bowl with a towel and let the dough rise until has doubled, about 1 hour.
Dump the dough onto the floured work surface, cut the dough in half, cover the two dough pieces with a towel and let the dough rest for 15 minutes.
Cut each half into two pieces and roll each piece into a rectangle no more than about 4 inches wide.
Working with one rectangle at a time, spread softened butter on the dough.
Coat generously with brown sugar, spreading it around to make an even layer with your fingers.
Sprinkle generously with cinnamon.
Roll the rectangle up length-wise (for a long roll) and slice into mini cinnamon rolls, about ½-inch wide.
Place one roll in each greased mini muffin tin.
Cover the pan with a towel and let the rolls rise for 30 minutes.
Bake the rolls at 400 degrees for 7-10 minutes until they are lightly golden brown. You can always pull one apart to make sure they are cooked through the center.
If they are getting too browned but need to cook longer, cover them with foil and continue baking.
Let the rolls cool until you can handle them and place them on a wire rack to cool completely.
Drizzle with powdered sugar glaze while still warm or wait until cooled.
Store in a sealed container.
Powdered Sugar Glaze
Mix the ingredients together.
Adjust the consistency according to your needs. (I have never followed a recipe but make it to consistency.)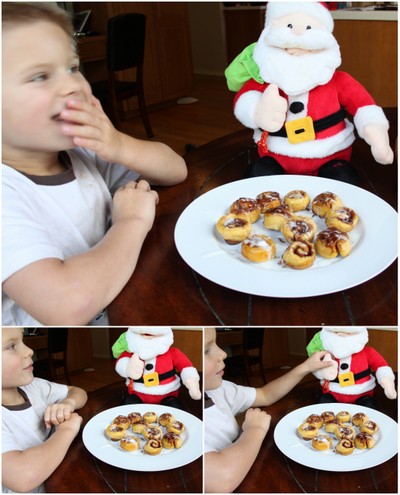 Tags: cinnamon, cinnamon rolls, mini cinnamon rolls, pumpkin, pumpkin cinnamon rolls, pumpkin rolls, pumpkin yeast bread